Irish Ferries
Irish Ferries

Cheap Irish Ferries ships Ireland, the UK or France!

Save money and book cheap fares with Ferrysavers and Irish Ferries!

Recommended just for you!

Ferries to Ireland

Book your journey to Ireland with Ferrysavers.

Ferries to Ireland

Find the best ferry offers to Ireland with Ferrysavers!
All the cheapest prices and latest deals for Irish Ferries
Dublin-Cherbourg car+4 from just €64pp each way
Book by 18/04/2019.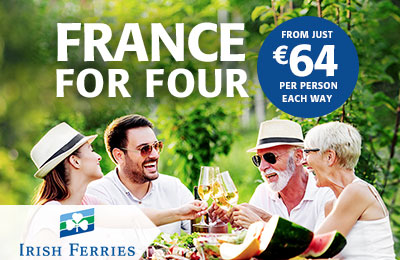 France from €64 per person each way based on a Car+4 travelling together and includes a standard inner cabin. Travel from Ireland up to May 29th. Return from France up to June 23rd and from 3rd to 29th September inclusive. Book up to 18 April 2019 and 5 days before travel.

With Ferrysavers you can quickly and easily book a cheap Irish Ferries ship to the Republic of Ireland, the UK or France.
At Ferrysavers you can book a ferry crossing to Dublin or Holyhead. In addition, Irish Ferries also offer ferries to Rosslare and also Pembroke.
Here, at Ferrysavers, we make it easy for you to book your Irish Ferries crossing by using our unique price comparison engine, we can help you to find the best possible deal by comparing ferries to Ireland.
Irish Ferries run ferry services on the massively popular route between Dublin (R.O.I.) and Holyhead (Wales, UK)
Irish Ferries
Irish Ferries is the `low fares ferry company', and was established in 1973. Irish Ferries is the ferry division of the Irish Continental Group, and is Ireland's largest ferry company with routes connecting the Republic of Ireland with the UK and continental Europe.
Irish Ferries prides itself on having the most modern fleet on the Irish Sea. In 2001 Irish Ferries launched the world's largest car ferry, the Ulysses, which sails between Holyhead and Dublin 4 times a day. Irish Ferries also have the cruise ferries the Isle of Inishmore and the Oscar Wilde as well as the high-speed catamaran The Jonathan Swift; all have a choice of bars, brassieres or cafés, as well as shops and plenty of entertainment onboard including lounges, a variety of bright, spacious cabins and cinemas on some sailings.
Pets on board Irish ferries
You can book your cat or dog on board Irish ferries with Ferrysavers. Pets on Irish Ferries must travel in the kennels provided. Please make your pet as comfortable as possible by providing absorbent bedding and familiar toys. Pets can only travel to Ireland via Cherbourg Please note that all dogs must wear a muzzle. Note that that to take your pet to and from the UK to mainland Europe (excluding Ireland) you will need a pet passport.
Irish Ferries ferry routes
Dublin to Holyhead

with

Timetable
up to 6 crossings per day
from 2 hrs 15 mins

Holyhead to Dublin

with

Timetable
up to 6 crossings per day
from 2 hrs 15 mins

Pembroke to Rosslare

with

Timetable
up to 2 crossings per day
4 hrs 1 min

Rosslare to Pembroke

with

Timetable
up to 2 crossings per day
4 hrs 1 min
Recent Reviews
Pembroke to Rosslare with Irish Ferries

Perfect crossing both outward and return journey. Will certainly use Irish Ferries again.

Review by NEIL FISHER, Family with older children.

Irish Crossing from Pembroke

Pembroke to Rosslare with Irish Ferries

Very good crossing with Irish Ferries from Pembroke to Rosslare - and return. Terminal facilities OK but a bigger selection of food outlets would be appreciated. Ferry clean and presentable. Shop very good. Overall an 8 out of 10.

Review by ROBERT POLLARD, Couple.

Rosslare to Pembroke with Irish Ferries

Brilliant end to a BRILLIANT Holiday in Ireland

Review by ROGER PASCOE, Couple.

Dublin to Holyhead with Irish Ferries

Fast ferry had high level of engine noise and vibration , very uncomfortable

Review by CHRISTOPHER HEYWOOD, Couple.

Ferry to Dublin from Holyhead

Holyhead to Dublin with Irish Ferries

Comfortable journey with all aspects of it handled well by staff Both at check in and on board

Review by YVONNE BUCKLEY, Couple.