DFDS Seaways
DFDS Seaways

With Ferrysavers you can easily find your ideal cheap DFDS Seaways ferry between England, France and the Netherlands!

Get your fare with DFDS and Ferrysavers today for a great price!

Recommended just for you!

Ferrysavers

Use Ferrysavers to book your journey with DFDS seaways for the best price!

Ferrysavers

Enjoy your experience in France with Ferrysavers!

Newcastle to Amsterdam with Ferrysavers and DFDS Seaways!

Great discounted offers for you on the popular Newcastle - Amsterdam route!

Ferrysavers

With Ferrysavers you can easily find your ideal cheap DFDS Seaways ferry crossing!

Ferrysavers

Free breakfast on Newcastle-Amsterdam with DFDS
25% Off Ferries to France with DFDS!
Book by 24/04/2019. Travel until 21/12/2019.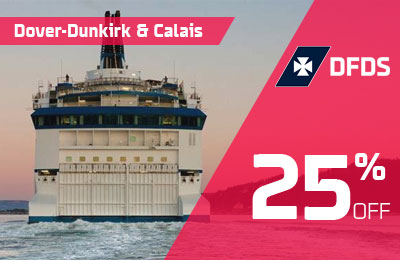 Sail with DFDS and save 25% off your booking. Perfect for a last minute Easter getaway or your next holiday! You can book one-way or return sailings from Dover-Dunkirk or Dover-Calais and travel up to 21/12/2019. Book by 21/04/2019. Depart UK or France. From just £34.00 one way.
Save up to £20 on Dover-France Return Crossings
Book by 17/04/2019. Travel until 23/12/2019.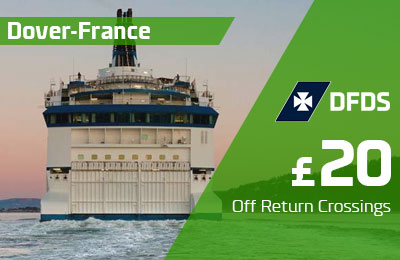 Save £20 on Dover-Dunkirk & Dover-Calais routes, on return crossings with DFDS. For a limited time only save up to £10 one way or £20 for a return crossing. Take your car and up to 9 passengers to France from just £35 one way or £70 return. Departing from Dover only. Offer valid for cars, high cars, motorcycles and sidecars.
Save up to £70 on Newcastle-Amsterdam Ferry Crossings
Book by 31/05/2019. Travel until 30/06/2019.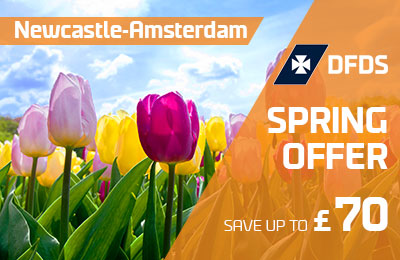 Sail away and explore Amsterdam in the springtime, with £35 off one way and £70 off return crossings from Newcastle to Amsterdam. Note: offer of £35 off Each Way applies to all cabin types except A5 and Commodore cabins.
Short Breaks to France from £45
Travel before 17th December 2019.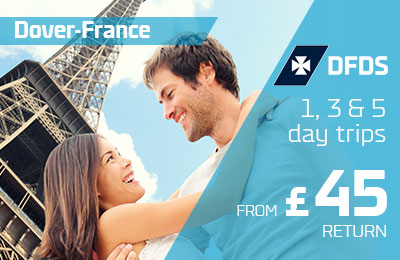 Hop over to France and sail from Dover to Dunkirk or Dover to Calais. and explore all that France has to offer.
1 Day return from £45
3 Day return from £75
5 day Return from £85
Terms and Conditions:
Subject to terms and conditions. Excludes these dates: April 5-7, 12-14, 19-21, 26-28, May 24-26, 31, June 1-2, 14-17, July 11-31, August 1-31, September 1-4, October 18-20. Offer is available on return bookings only, with a car and up to 9 people - or with a motorcycle, with or without side car and up to 2 people. Outward journey must start in Dover. Offers may be withdrawn at any time
Save 30% on an Early Bird Mini Cruise to Amsterdam
Book now. Travel all year. Prices from £74pp based on 2 sharing, return.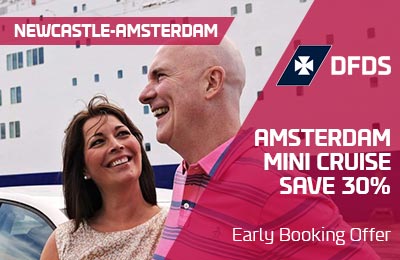 Book a mini cruise from Newcastle to Amsterdam 60+ days before departure & save a fantastic 30% with our early bird offer. With your travel, accommodation and transfers included, it's the perfect way to see the Dutch capital. Includes 2 nights onboard in an en suite cabin, time to explore Amsterdam and coach transfers.
Newcastle-Amsterdam, take your caravan for FREE!
Book 30 days in advance. Travel all year.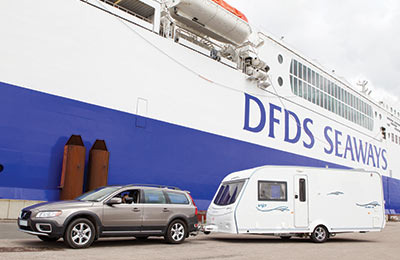 Caravans free Sunday, Monday and Tuesday between October to April: You can take your MCV at the price of a car.
With Ferrysavers you can easily find your ideal cheap DFDS Seaways ferry between England, France and the Netherlands. With DFDS Seaways you are able to book a ferry to Calais, Dunkerque, Newcastle, Copenhagen. You can book online easily and quickly with Ferrysavers.
Just use Ferrysavers' unique engine to find the DFDS Seaways crossing you are after, or compare the whole ferry market by operator, route and time by using our real-time comparison engine, and find information on DFDS Seaways ports and routes from this page.
DFDS Seaways English Channel run cross channel ferries to France between Dover (England), Dunkerque (Dunkirk) and Calais, with up to 12 crossings a day and a journey time of 1 hour 45 mins
DFDS Seaways run ferry services between Newcastle (England) and IJmuiden for Amsterdam (Netherlands).
And DFDS Seaways also run the popular ferry service between Oslo (Norway) and Copenhagen (in Denmark)
DFDS Seaways run ferry services between Liverpool (England) and the Irish ports of Dublin and Belfast.
DFDS Seaways are a very popular choice for those wishing to cross the Channel in comfort, and for a great-value price! Calais is conveniently situated to allow easy access to the port itself but also to shops and restaurants in the surrounding area by being directly linked to the French motorway system. Dunkerque is convenient for many destinations in France and also well situated for Belgium, the Netherlands, Germany and beyond. What's more, DFDS Seaways English Channel is the only ferry company sailing to Dunkerque, meaning you're on your way from the ferry port more quickly and the roads are a lot quieter.
DFDS Seaways
DFDS Seaways is part of the DFDS Group, a leading maritime transport company from Denmark, and has provided passenger services for over 140 years. The company was founded in 1866 under the name Det Forenede Dampskibs-Selskab (`The United Steamship Company'). DFDS Seaways ships offer the discerning traveller the opportunity to enjoy a wide range of leisure and business facilities and the confidence of sailing with a long established and successful company whose reputation is based on first-class customer service.
The company has a fleet of 5 modern passenger ferries: m.s. King of Scandinavia, m.s. Pearl of Scandinavia, m.s. Princess of Norway, m.s. Crown of Scandinavia and m.s. Dana Sirena. DFDS Seaways fully appreciate the pressures of every day working life and understand the importance of good service, relaxation and value for money. Simply, DFDS Seaways know you expect and deserve the very best.
DFDS Seaways ferry routes
Copenhagen to Oslo

with

Timetable
up to 7 crossings per week
17 hrs 15 mins

Amsterdam IJmuiden to Newcastle

with

Timetable
up to 7 crossings per week
16 hrs 45 mins

Newcastle to Amsterdam IJmuiden

with

Timetable
up to 7 crossings per week
15 hrs 45 mins

Oslo to Copenhagen

with

Timetable
up to 7 crossings per week
17 hrs 15 mins

Dover to Dunkirk

with

Timetable
up to 12 crossings per day
2hrs

Dunkirk to Dover

with

Timetable
up to 12 crossings per day
2hrs

Dover to Calais

with

Timetable
up to 15 crossings per day
1 hr 30 mins
Recent Reviews
Newcastle to Amsterdam IJmuiden with DFDS Seaways

Beautiful ferry, and great entertainment

Review by JUANITA YATES, Couple.

Newcastle to Amsterdam IJmuiden with DFDS Seaways

excellent service...comfortable trip....amazing price... highly recommended. many thanks.

Review by GINSON KOYICKAL VARGHESE, With Friends.

Newcastle to Amsterdam IJmuiden with DFDS Seaways

We booked a return crossing with a car and was given cabin 513 on the outward journey from Newcastle it was obviously above the Ships engine and the noise and rattle was atrocious. I didn't sleep a wink and made my driving journey the next day very tiring indeed. Returning we were given a cabin on the same lover deck. There seems be given the upper deck cabins to lots of bus passengers. As a frequent ferry user, as a freight driver and leisure driver I wasn't treated that well. We visit Holland frequently because of family.

Review by GRAHAM WRIGHT, Couple.

Amsterdam IJmuiden to Newcastle with DFDS Seaways

As expected, a pleasant and restful journey. Disembarkation was a pain due to Immigration, but apart from that, a relaxing and rewarding experience. On board meal in the north sea bistro was top class. Cabin was comfortable and we had a good night's sleep.

Review by ANDREW KINGHORN, Couple.

Newcastle to Amsterdam IJmuiden with DFDS Seaways

Thought we were getting a cheap getaway. Staff were very friendly excellent customer service but not being allowed to take a bottle of wine on board with me so I had to pay your prices at thirty five pounds a bottle and being told off for eating my own bag of crisp as I drank it I doubt I will rush back

Review by Anonymous, With Friends.